Ada banyak game fantastis di Android, tapi Star Wars: Knights of the Old Republic (KOTOR) dan sekuelnya adalah dua yang terbaik. Port dari game asli, rilis Android memiliki semua versi desktop yang ditawarkan, termasuk kemampuan moddingnya. Mereka juga datang dengan dukungan pengontrol, jadi ambil pengontrol yang kompatibel dengan Android untuk sepenuhnya menikmati RPG hebat ini.
Ada berbagai mod yang tersedia untuk kedua game tersebut, termasuk perubahan grafis, konten buatan penggemar, atau tweak keseimbangan. Semuanya dapat diinstal pada versi Android, tetapi ini bukan proses yang intuitif. Kami akan menunjukkan kepada Anda cara memasang dua mod paling populer untuk KOTOR 1 & 2, tetapi perlu diingat bahwa langkah-langkah ini dapat diulangi untuk sebagian besar mod.
Apa mod terbaik untuk Knights of the Old Republic?
Mod terbaik untuk KOTOR 1 & 2 adalah masalah pendapat pribadi, tetapi menurut kami yang terbaik adalah yang memperbaiki masalah terbesar gim. Baik KOTOR 1 dan KOTOR 2 mengalami pengembangan yang terburu-buru. Ini berarti pengembang memotong banyak konten dari game sebelum dirilis. Namun, file-file ini mudah diakses oleh para modder, yang mengarah ke pembuatan file Mod Restorasi untuk KOTOR 1 dan The Sith Lords Memulihkan Konten Mod untuk KOTOR2.
Mod ini memperkenalkan kembali sebagian besar konten yang dipotong ke dalam game, tetapi tidak semua. Hanya konten yang sesuai dengan plot yang ada yang dimasukkan. Ini termasuk pencarian yang hilang, perbaikan bug, dialog, opsi kesulitan tambahan, dan banyak lagi. Ini berarti memasang mod ini tidak akan mengubah pengalaman dasar KOTOR 1 & 2.
Cara memasang mod untuk KOTOR 1 dan 2
Sebelum Anda mulai menginstal mod, instal dan jalankan kedua game untuk memeriksa apakah keduanya berfungsi dengan benar di perangkat Anda. Jika ada masalah, atasi masalah ini sebelum Anda memulai modding, karena mengubah file gim meningkatkan kemungkinan macet atau kesalahan.
Bagaimana memilih aplikasi file
Hal pertama yang Anda perlukan adalah aplikasi file. Aplikasi pilihan kami adalah Solid Explorer, tetapi alternatif seperti ES File Explorer akan berfungsi dengan baik. Aplikasi file bawaan dari Google dan Samsung tidak akan memotongnya karena tidak menyediakan akses ke folder yang kita butuhkan. Setelah Anda memiliki aplikasi file, Anda harus memberinya beberapa izin sebelum dapat menginstal mod apa pun:
Arahkan ke Android folder di aplikasi file pilihan Anda.
Munculan akan muncul menjelaskan bahwa Anda perlu mengizinkan akses ke direktori ini. Mengetuk Menganugerahkan.

Mengetuk Gunakan folder ini di bagian bawah layar Anda.

Anda akan ditanya apakah ingin memberikan akses aplikasi ke file dalam data. Mengetuk Mengizinkan.
Jika Anda memilih untuk tidak mengizinkan aplikasi pihak ketiga mengakses folder ini, sambungkan perangkat Anda ke PC melalui USB dan gunakan File Explorer untuk menginstal mod Anda.
Sekarang saatnya mengunduh beberapa mod. Mereka tersedia dari berbagai tempat, tetapi kami merekomendasikannya Nexus Mod jika Anda baru mengenal modding. Sudah ada sejak lama dan merupakan platform yang andal untuk menemukan dan mengunduh mod.
Nexus Mods menawarkan opsi penginstalan otomatis. Jangan gunakan ini, karena hanya relevan untuk menginstal mod di komputer desktop.
Cara membuat cadangan penyimpanan KOTOR Anda
Jika Anda memodifikasi game dengan menyimpan file, Anda harus mencadangkannya terlebih dahulu. Memodifikasi game dapat merusak file penyimpanan, jadi lakukan ini sebelum Anda mulai mengotak-atik.
Direktori "com.aspyr.swkotor," sesuai dengan game pertama, dan direktori "com.aspyr.swkotorii" sesuai dengan yang kedua. Petunjuk untuk mencadangkan penyimpanan Anda sama untuk kedua game.
Navigasi ke Android>Data>com.aspyr.swkotor>file.
Begitu berada di dalam direktori, arahkan ke menghemat map.
Di sini, Anda akan melihat folder untuk setiap penyimpanan yang Anda miliki.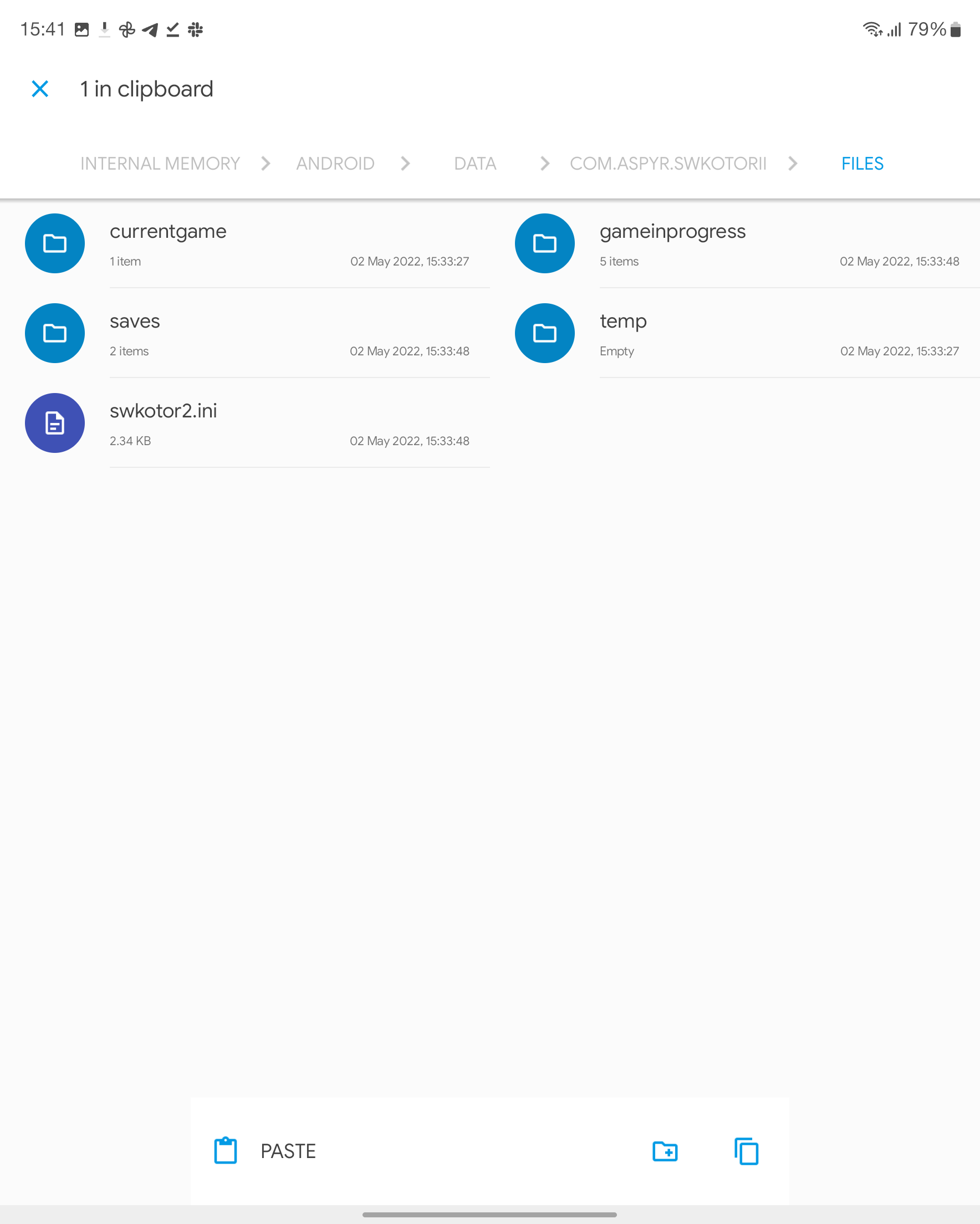 Di mana Anda mencadangkannya adalah pilihan Anda. Jika terhubung ke PC, Anda dapat menyalin dan menempelkannya ke hard drive-nya atau menggunakan fungsi berbagi aplikasi file untuk mengunggahnya ke Google Drive. Apa pun pilihan Anda, kemajuan Anda aman jika terjadi kesalahan dan Anda harus menginstal ulang game.
Cara memasang mod untuk KOTOR 1 dan 2
Memasang mod bukanlah pengalaman universal, dan bahkan lebih rumit di Android. Kami akan menunjukkan kepada Anda cara menginstal mod Konten yang Dipulihkan untuk KOTOR 2, dan dengan mengikuti tip ini, Anda akan melihat cara proses bekerja di Android dan peringatan apa pun untuk proses biasa. Misalnya, meskipun kami lebih suka Nexus Mods, versi yang diperlukan di sini hanya tersedia dari Arus Mematikankarena harus di-tweak agar berfungsi di seluler.
Arahkan ke folder unduhan di ponsel Anda.
Tekan lama file .zip mod dan ketuk tombol tiga titik di kanan bawah layar Anda.
Mengetuk ekstrak.
Saat ekstraksi selesai, Anda akan melihat folder dengan nama yang sama dengan mod tetapi tanpa .zip di bagian akhir. Buka folder ini.
Di dalamnya ada folder bernama dlc. Tekan lama folder ini.
Ketuk tombol salin (kedua dari kiri di bilah bawah).
Mengetuk MEMORI INTERNAL di bagian atas layar.
Navigasi ke android>data>com.aspyr.swkotorii>file.
Mengetuk tempel.
Setelah Anda menyelesaikan langkah-langkah ini dan semuanya disalin, luncurkan Knights of the Old Republic 2. Anda akan melihat "Modifikasi konten yang dipulihkan Sith Lords" di menu utama di bawah judul. Itu berarti mod telah terpasang dengan benar, dan Anda dapat menikmati permainannya. Bergantung pada modnya, pesan serupa mungkin muncul.
Selama Anda mengikuti instruksi yang diberikan pada setiap mod, Anda tidak akan mengalami masalah saat memodifikasi Knights of the Old Republic 1 atau 2. Mod ini memberikan kehidupan baru ke dalam game lama ini dan merupakan bukti bagi komunitas yang terus menyukainya. setelah bertahun-tahun.
Coba modding lebih banyak game untuk Android
Memodifikasi game di Android jauh lebih kompleks daripada di PC, tetapi masih banyak game yang bisa di-mod di Android. Setelah Anda menjelajahi konten yang ditambahkan oleh mod KOTOR yang fantastis ini, cobalah modding game Android yang berbeda.