Meskipun tidak ada kelangkaan aplikasi edit foto terbaik untuk Android, hal yang sama tidak berlaku untuk perangkat lunak pengeditan video profesional. Namun kedatangan LumaFusion untuk Android dan ChromeOS telah mengubah banyak hal secara signifikan. Konversi aplikasi populer dari iOS mengalami penundaan yang signifikan, tetapi pelanggan disuguhi akses beta awal akhir tahun lalu. Sekarang, tampaknya aplikasi tersebut telah dibuat cukup baik bagi perusahaan untuk memungkinkan semua orang mencobanya melalui Google Play Store.
LumaFusion terus menduduki puncak tangga App Store untuk pengeditan media, bahkan memenangkan iPad App of the Year pada tahun 2021. Itu semua untuk alasan yang bagus: aplikasi ini menyediakan semua alat dan fitur penting yang diminta oleh pendongeng visual. Jadi, tidak mengherankan jika beberapa pengguna akan menyadap penerbitnya, LumaTouch, untuk versi Android. Dalam sebuah posting di blog pengembang ChromeOSsalah satu pendiri perusahaan Chris Demiris merinci proses yang panjang dan berbagai tantangan untuk membuat editor media multi-track bekerja di Android, tetapi pada akhirnya mengatakan bahwa dia berharap untuk melihat siswa dengan Chromebook mencoba mengedit video dengan LumaFusion.
Pelanggan yang merupakan bagian dari akses terbuka Android tahun lalu telah ditingkatkan rilis stabilnya tanpa biaya — pengguna tersebut hanya perlu membayar $20 untuk lisensi aplikasi. Pelanggan baru LumaFusion di Android dan ChromeOS sekarang harus membayar $30, harga yang sama untuk pelanggan Apple. Namun, untuk waktu yang terbatas, Google menawarkan diskon 25% kepada pengguna Chromebook dari biaya aplikasi Halaman tunjangan resmi ChromeOS.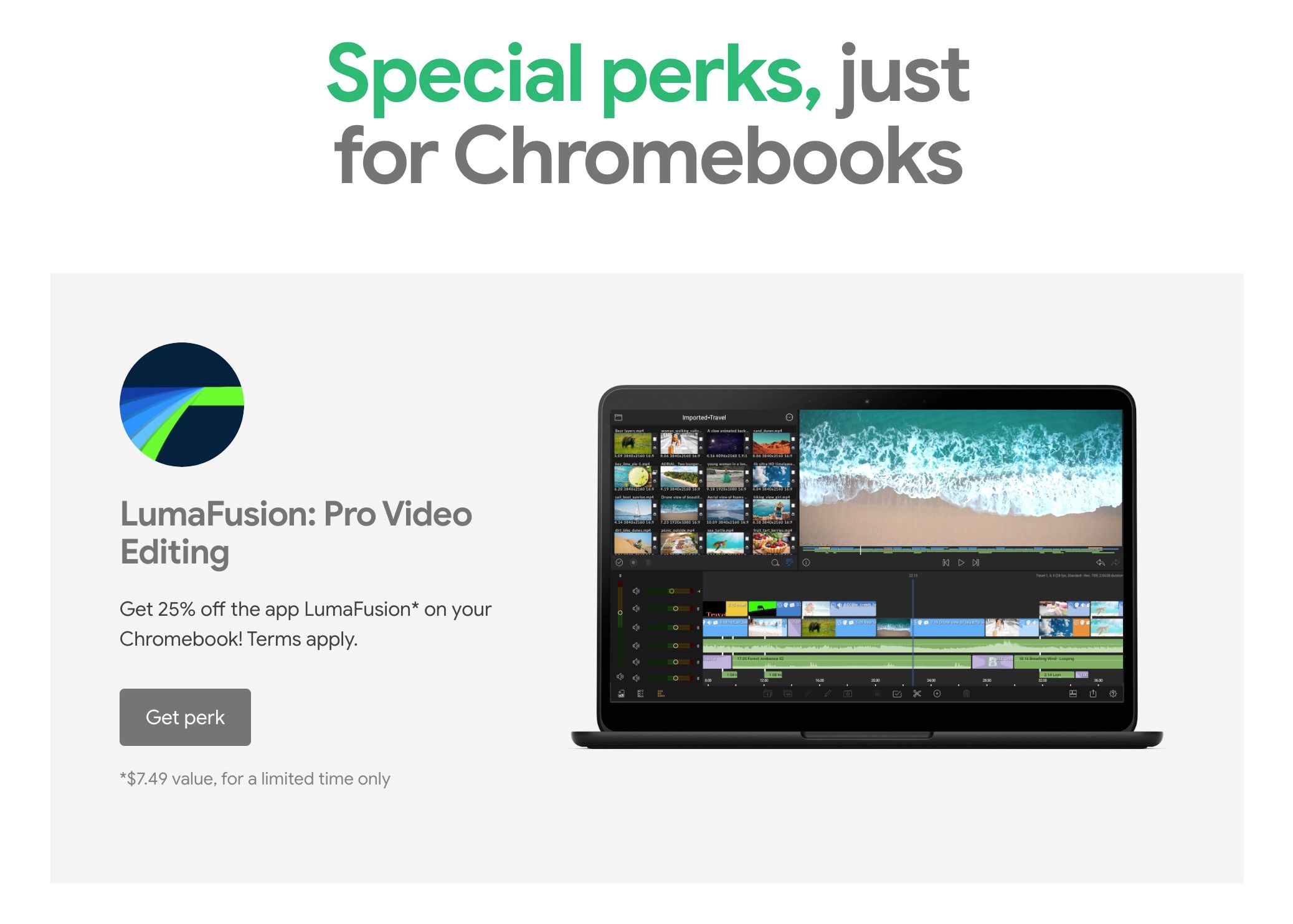 Di masa lalu, segala jenis perangkat lunak pengeditan video yang layak sulit didapat di ChromeOS. Google Foto melakukan perombakan selamat datang pada editor videonya tahun lalu, bahkan mengizinkan proyek multi-klip meskipun dalam satu jalur. Namun dengan diperkenalkannya LumaFusion, pemilik beberapa Chromebook terbaik serta banyak ponsel dan tablet Android sekarang akan dapat melakukan pengeditan video profesional pada perangkat yang pernah dianggap sebagai netbook yang dimuliakan.
Pengguna akan dapat menumpuk hingga dua belas trek (enam untuk video) di garis waktu mereka dan menerapkan efek untuk kecepatan pemutaran klip serta tombol untuk layar hijau, luma, dan kroma. Ekspor dapat diproses dengan frekuensi gambar mulai dari 18 fps hingga 240 fps dan rasio aspek mulai dari dua film (apakah itu 0,35 atau 0,39 adalah urusan Anda) hingga gaya potret untuk media sosial.
Aplikasi ini juga menawarkan integrasi StoryBlocks secara default, meskipun memerlukan langganan berbayar terpisah untuk akses ke perpustakaan besar stok audio, video, dan aset foto serta template untuk membantu Anda memulai. LumaFusion akan terus tersedia dari Toko Samsung Galaxytempat aplikasi tersebut memulai debutnya di Android tahun lalu, bersama dengan tempat barunya di Play Store.