Tidak setiap hari game seluler, terutama dari platform yang kurang dikenal, Netflix Games, melebihi ekspektasi. Teenage Mutant Ninja Turtles: Shredder's Revenge adalah pelabuhan yang fantastis bahwa setiap pelanggan Netflix harus menyelami dosis dopamin harian mereka; ada sesuatu yang sangat menarik tentang membuat regu Teenage Mutant Ninja Turtle yang terkenal bertarung dengan sekelompok penjahat baru dengan gaya perkelahian yang sangat nostalgia. Shredder's Revenge tidak hanya memberikan pengalaman berkelahi yang luar biasa, tetapi juga menambah alasan yang bagus untuk menempatkan Anda ponsel game Android favorit untuk penggunaan penuh — gim ini sepenuhnya gratis jika Anda sudah berlangganan Netflix. Namun tentu saja, pemain baru mungkin memerlukan beberapa petunjuk tentang cara terbaik untuk mempelajari beat 'em up Netflix yang menantang, itulah sebabnya kami telah mengumpulkan semua kiat penting yang perlu diketahui setiap pemula.
Mainkan mode Story terlebih dahulu
Mode cerita episodik adalah pengantar yang fantastis untuk mempelajari level permainan sambil merasakan karakter Anda dan kombo yang optimal. Tidak seperti mode Arkade, Game Berakhir tidak membebani Anda saat bermain, dan Anda dapat menangani kembali level yang telah diselesaikan sebelumnya.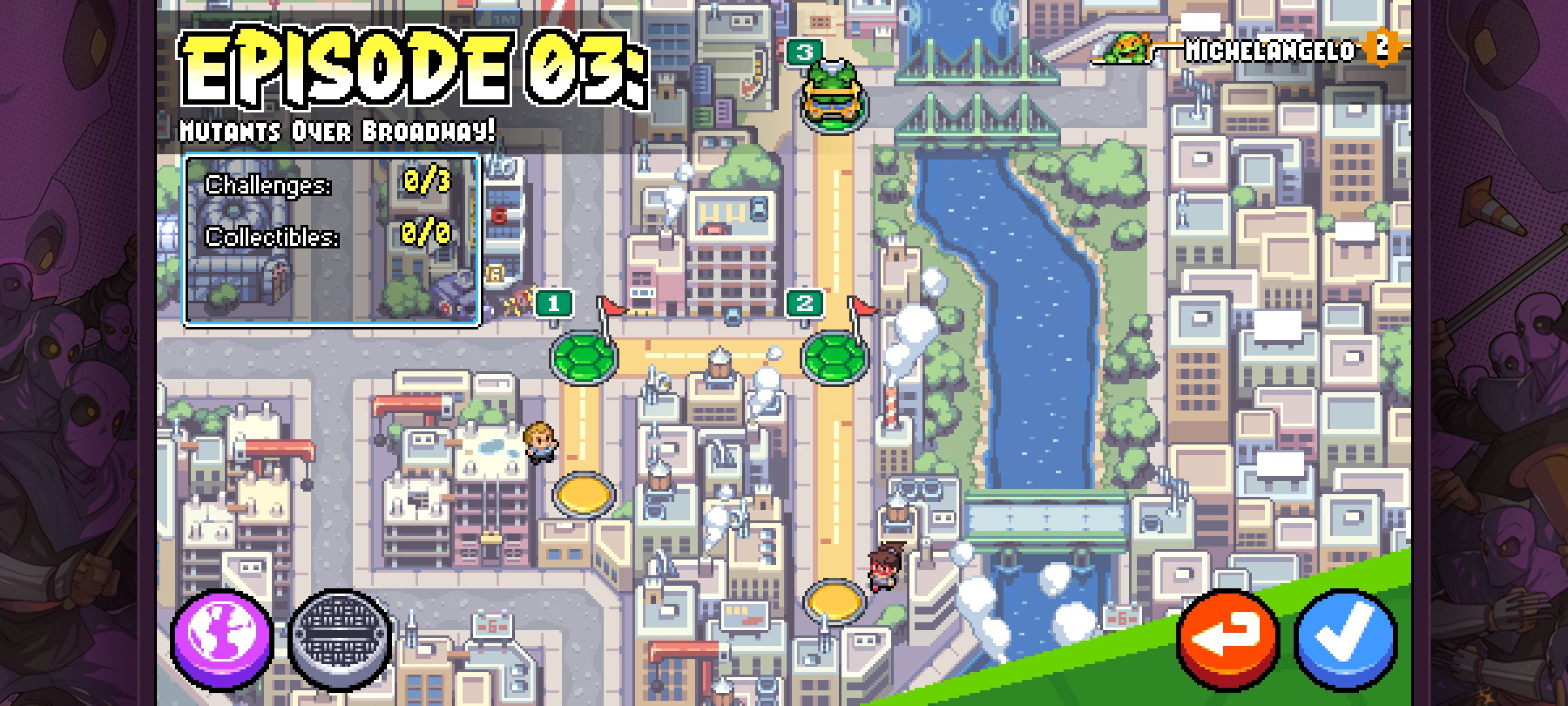 Menyelesaikan semua 16 episode dan mengalahkan bos terakhir akan menghadiahi Anda dengan Casey Jones, karakter dengan tujuh bintang yang didistribusikan di semua statistik, satu bintang tambahan di atas karakter permainan lainnya.
Kenali kura-kura Anda (dan non-kura-kura)
Salah satu bagian terbaik dari Shredder's Revenge; Anda dapat menukar karakter Anda antar level tanpa dihukum. Intinya, permainan berlanjut setelah mengubah karakter Anda. Jadi jika Anda terjebak pada level dengan satu Turtle, coba lagi dengan yang lain.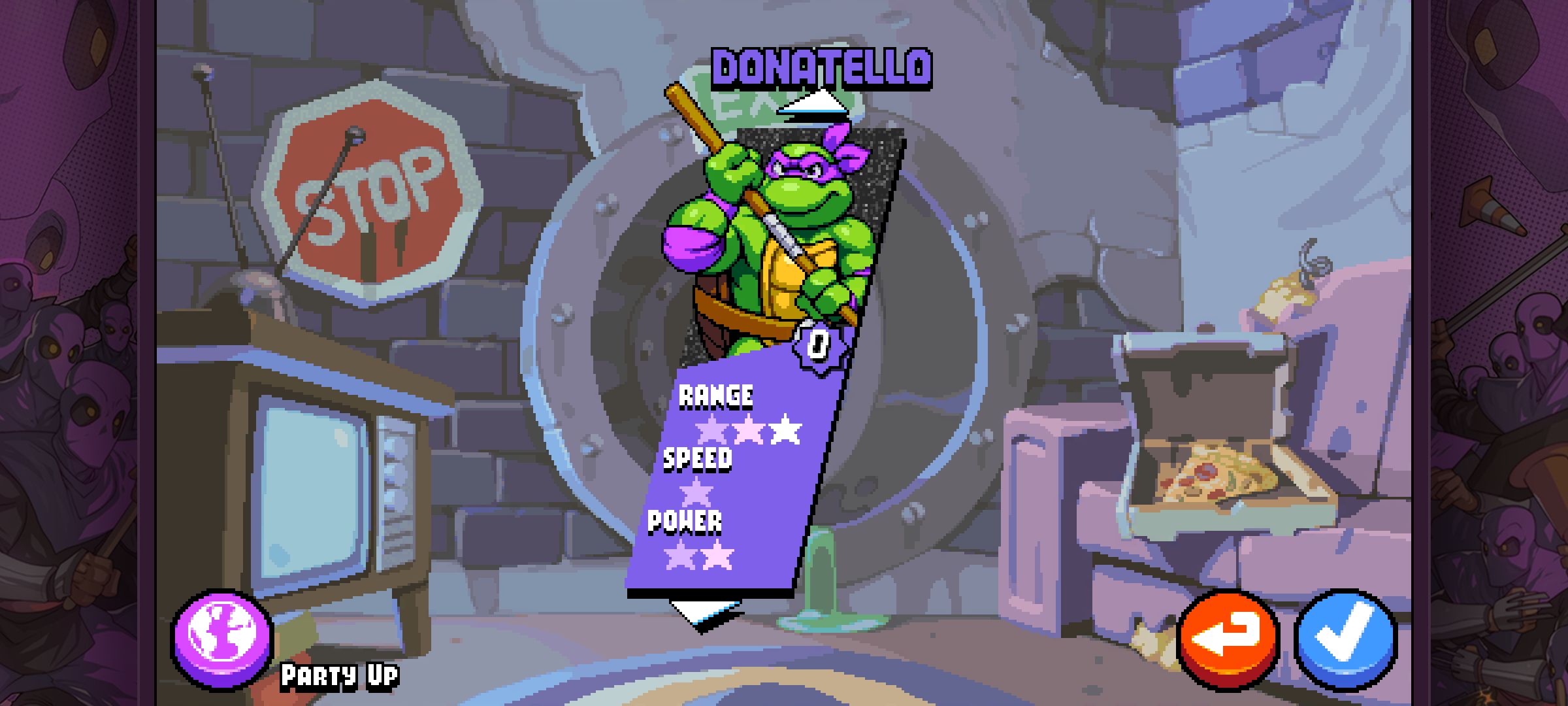 Permulaan ramah pemula
Tiga karakter paling ramah pemula adalah Raphael, Michelangelo, dan April. Raphael cepat berdiri dan tahu cara meninju di atas bobotnya, tetapi jangkauannya sangat buruk, sedangkan April dan Michelangelo menutupi kecepatan tetapi masing-masing menukar kekuatan dan jangkauan. Karakter cepat membantu Anda melepaskan kombo tanpa terganggu, yang merupakan aset penting bagi pemain baru.
Mengelola rintangan dan menggunakan jebakan untuk keuntungan Anda
Sebagai bagian dari gaya gameplay beat 'em up, Anda harus melumpuhkan banyak penjahat untuk maju melalui setiap level. Namun terkadang, karakter Anda, Splinter (misalnya), tidak memiliki kecepatan dan kesulitan dalam pemulihan. Namun, menyerang objek seperti tong peledak membeli waktu untuk merangkai kombo yang kuat untuk menghajar jalan Anda menuju kemenangan.
Episode tiga adalah saat rintangan dilemparkan ke arah Anda dengan kekuatan penuh, bahkan menambahkan tantangan untuk tidak menerima kerusakan apa pun. Peringatan merah yang ditampilkan menunjukkan lalu lintas masuk, dan lintasan mendarat untuk jatuh/melempar benda ada di tanah; gunakan dodge Anda untuk menghindari kerusakan.
Dapatkan kenyamanan dengan serangan lompat dan kombo udara
Menyelesaikan level membutuhkan lebih banyak kecerdasan daripada meninju lawan Anda. Diperingatkan; beberapa musuh melayang-layang di episode tiga yang membutuhkan serangan lompat untuk menghabisi mereka.
Jika Anda memainkan Shredder's Revenge dengan kontrol sentuh, sangat penting untuk melakukan pull-off dengan presisi serangan lompatan Anda untuk menghindari pendaratan di tempat di mana sekelompok musuh dapat menghajar Anda. Jika Anda terpojok, gunakan teknik melarikan diri seperti serangan berguling dan terbang untuk menghindari bahaya.
Tinggalkan pizza pemulihan kesehatan saja (sampai lapar)
Mengatasi mode Arcade sama sekali berbeda, jauh lebih mengingatkan pada game bergaya arcade klasik seperti Streets of Rage. Anda hanya memiliki begitu banyak nyawa untuk menyelesaikan semua 16 tahap, yang dapat memakan waktu hampir 10 menit untuk menghindari rintangan, membunuh bos, dan menumbuk tombol untuk menyelesaikan setiap level. Jadi Anda mungkin mengeluarkan air liur karena melihat sekotak pizza (pemulihan kesehatan), tetapi hanya mengambilnya setelah Anda selesai membunuh lawan Anda di zona itu atau ketika Anda akan kehilangan nyawa. Perencanaan yang baik adalah kunci keberhasilan.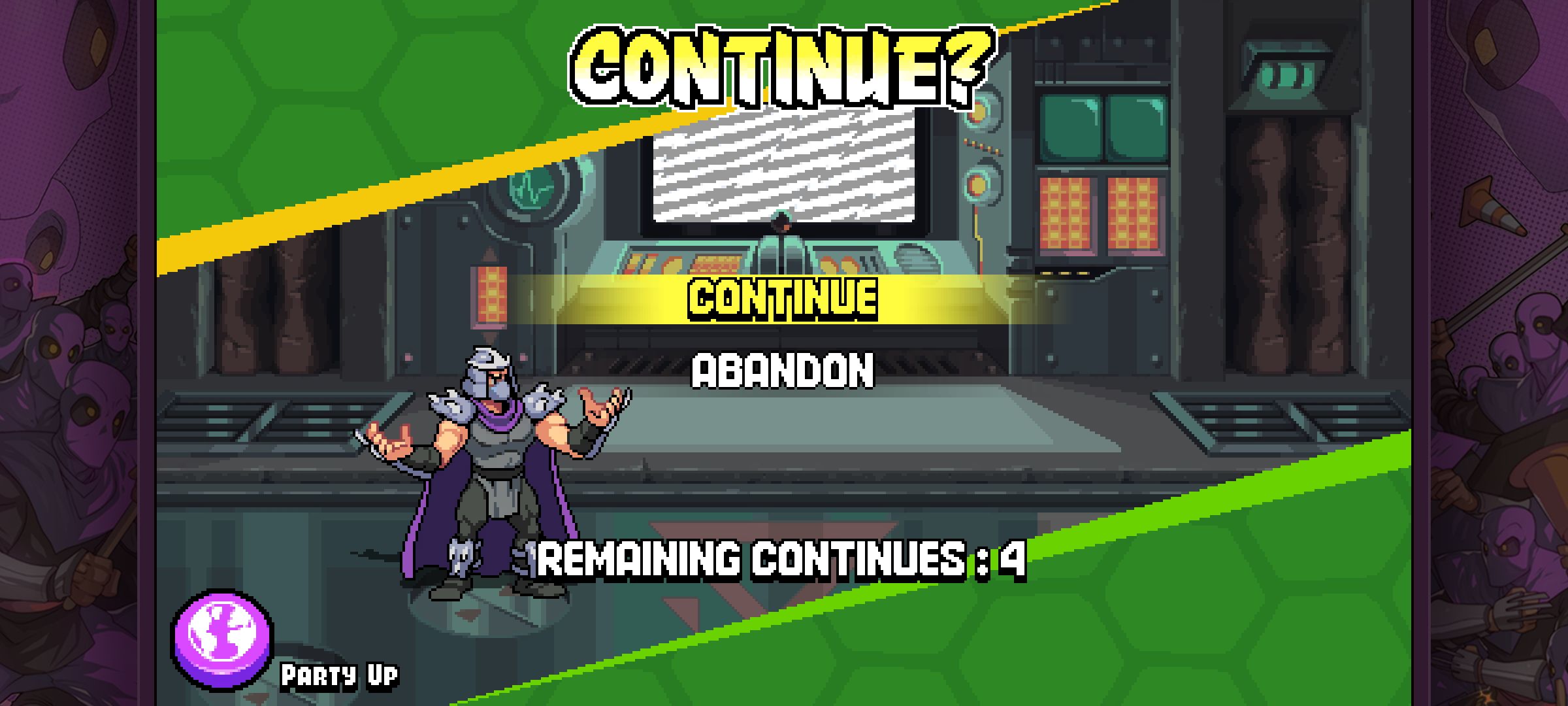 Terlalu banyak Game Over dalam mode Arcade akan menyetel ulang progres Anda yang akan membuat Anda memulai dari awal, yang bisa menyakitkan setelah menyelesaikan 12 dari 16 tahapan. Sangat dekat tapi sangat jauh.
Netflix menambahkan petarung adiktif lainnya ke dalam koleksinya dengan TMNT: Shredder's Revenge
Netflix Games memegang permata lain di perpustakaannya yang terus berkembang. Dari kontrol yang mulus (bahkan menggunakan layar sentuh) hingga gameplay FPS tanpa sabotase yang mengesankan secara grafis, TMNT: Shredder's Revenge menambahkan yang lain game Android yang solid ke koleksi Anda. Dan jika Anda sudah terpikat dengan Netflix Games' Streets of Rage 4, regu Teenage Mutant Ninja Turtle yang licik ini masih akan membuat Anda bersemangat untuk menggaruk gatal yang sama, itulah sebabnya kami menyertakan unduhan untuk versi Netflix di bawah ini. Alternatifnya, Anda juga bisa instal aplikasi melalui perpustakaan Netflix Games.